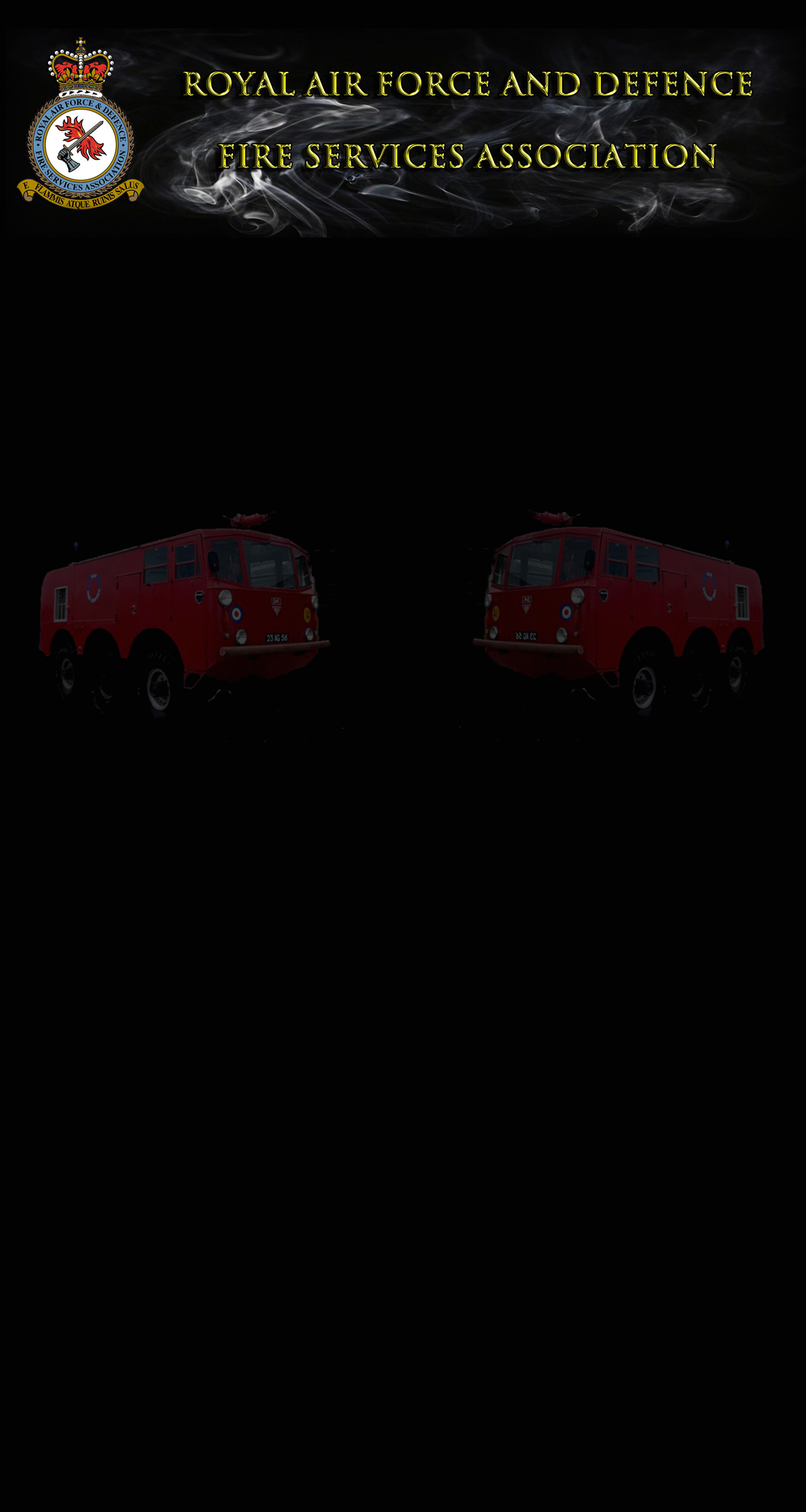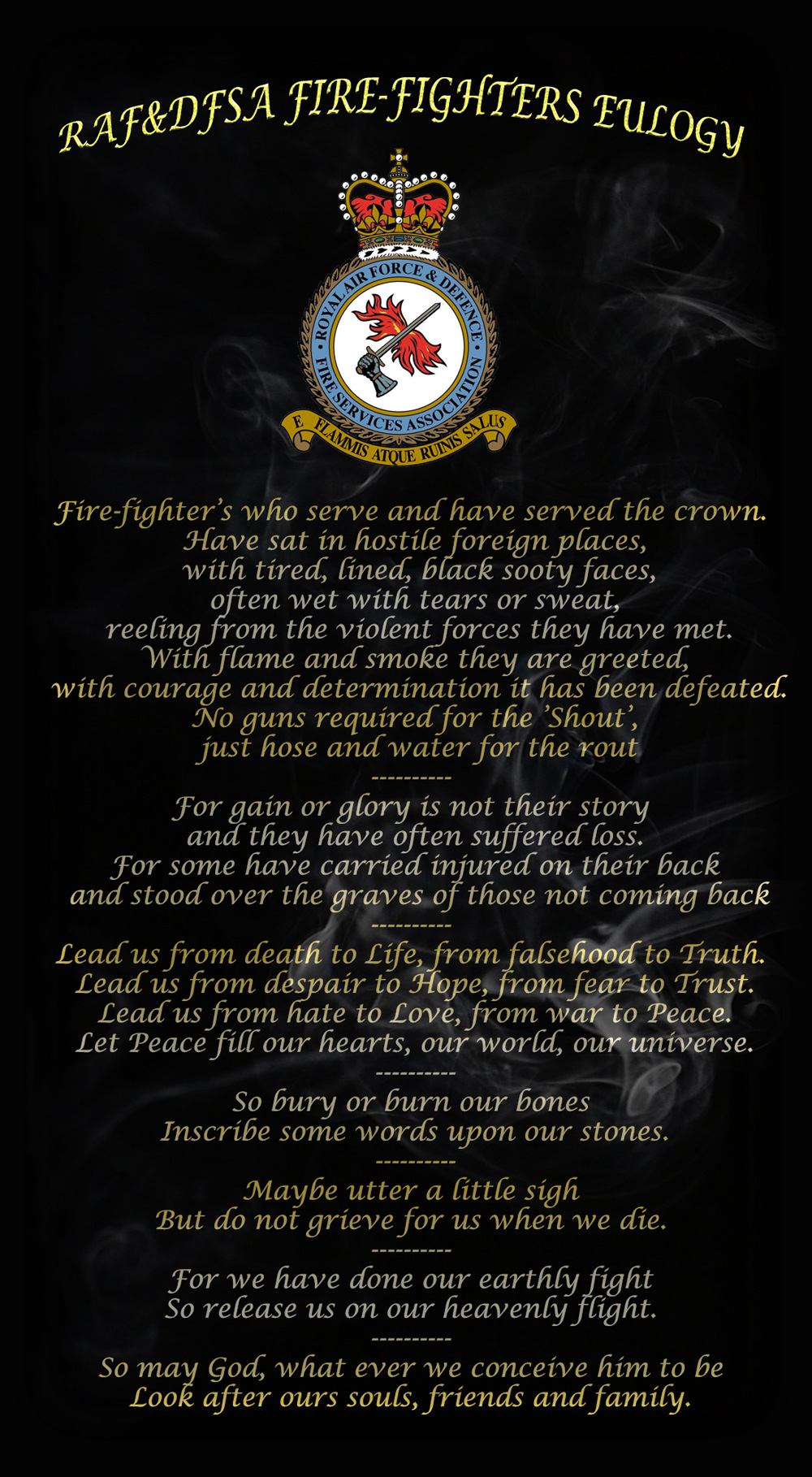 The RAF & Defence Fire Service has a book of remembrance where the names of our fallen comrades are recorded. The poem below was produced by Steve Harrison and is a combination of his own work, some lines from Mick Goupillot and a prayer from Satish Kumar, who was a Jain monk.


Death notices received in 2022 are posted below. To view previous listings please click the links above.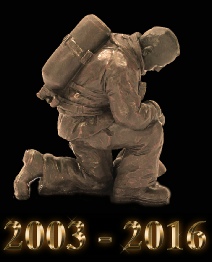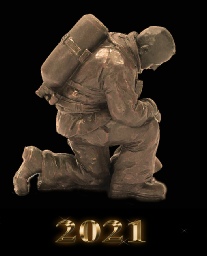 8 April 2022
From: Dave Broome
John Young
It is with great sadness and with the permission of the family that I inform you that John Young (FS Rtd), passed away yesterday afternoon. Rest in Peace John, you will be missed by many, condolences to the family and friends
John's funeral Service will be held on 03-May at 15:00. It will be at the North Devon Crematorium, Old Torrington Road, Barnstaple, EX31 3NW, followed by a get together at The Cedars Inn, Bickington Road, EX31 2HE.
Anyone that wishes to attend will be most welcome.
RIP John
* * * * *
28 January 2022
From: Adrian Williams
David Tomlinson
Yesterday I was given the sad news that after suffering a major stroke in November, David Tomlinson (better known to old friends and colleagues as Tommo), passed away on Wednesday in Boston Hospital with his family by his side.
Funeral arrangements have yet to be finalised but it's likely to be in Grantham with the wake being held in Sleaford, Lincolnshire. If anyone would like to attend, please message me privately and as soon as I have all the details I will let you know.
RIP Tommo …you'll be sadly missed.
* * * * *
13 April 2022
From: Brian Jones
Dave Blackburn
Learned via Facebook that ex-RAF Firefighter Dave Blackburn passed away on the 6th of this month. Dave served at RAF Coltishall in the late 70s, more information to follow when known
RIP Dave
* * * * *
27 April 2022
From: Trevor Hayes
Mem No 1038 Gordon Hinds
I regret to have to pass on the sad news that Gordon Hinds passed away recently, no other details are known at this time.
RIP Gordon
* * * * *
* * * * *
28 April 2022
From: Trevor Hayes
Mem No 51 Leslie Hertz
I regret to have to pass on the sad news that Leslie Hertz passed away on the 5th of April. Leslie was one of our founder members. He joined the Association on the 28th Aug 1995, the day it all began.His contribution to the Association over the 25+yrs was immense and he will be sadly missed by those members who knew, worked and served with him.
RIP Leslie
* * * * *
28 April 2022
From: Trevor Hayes
Mem No 670 Brian Walter (Steve) Davey


I've just received a call from Frankie, the daughter of Steve Davey, member no 670, to say that Steve passed away on 21st April after suffering a stroke followed by Pneumonia.
Steve joined the RAF in 1953 and trained at Sutton-on-Hull after which he was stationed at:
Boscomb Down
Kai Tak
Khormaksar
RAF Wellesbourne
Singapore (RAF Regt)
RAF Labuan
Oakington
Brize Norton
Fairford
West Raynham
Gutersloh
Machrihanish
West Drayton
Catterick
Gibraltar (twice)
Falkland Islands
Kinloss
Steve's funeral will take place on Friday 13th May at 11.00am at Chanterlands Crematorium, Hull. All are welcome to attend and say goodbye to Steve.
RIP Steve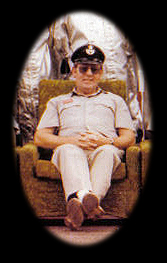 * * * * *
5 May 2022
From: Brian Jones
Mem No 420 Michael Urquhart
Sorry to have to pass on the sad news that Member number 420 ex RAF Fireman Michael Urquhart passed away a short while ago.
RIP Michael
* * * * *
10 May 2022
From: Dave Jenner
Malcolm Ray
With the permission of Christine, it is with great sadness that I have the duty to inform you of the passing of Malcolm Ray, Cpl retired. This will be sad news to many as Mal, was so well liked by all that were fortunate enough to have known him. He trained at Catterick in the 1960's and subsequent postings included:
Oakington,
Masirah,
Honington,
Fairford
Waddington
Saxa Vord,
HQ AFCENT
Ascension Island
Portreath
and Church Fenton
Mal, passed peacefully away yesterday morning at St James Hospital Leeds, after a brave battle against pulmonary fibrosis. His funeral will be on Tuesday 7th June 2022, 12:20pm at Pontefract Crematorium, Wakefield Road, Pontefract, West Yorkshire, WF8 4HA. There will be a reception afterwards at the Magnet Hotel, Pontefract Road, Castleford, West Yorkshire, WF10 4BG
No flowers but please make charity donations to The Royal Air Force Benevolent Fund, click here to do it on line.
RIP Mal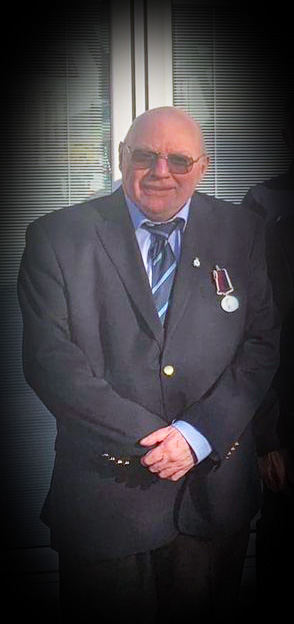 21 May 2022
From: Brian Jones
Mem No 465 Robert Williams
Sorry to have to pass on the sad news that Member number 465 ex RAF Fireman Robert Williams passed away on 13 May 22.
Robert's funeral service will take place at Harrogate Crematorium on Tuesday 31st May 22 at 3pm
RIP Michael
* * * * *
1 July 2022
From: George Turnbull
Martin Tattersall
Very sad to report the death on one of our comrades, Martin Tattersall, (Tat) served late 60s till 70s. Lovely bloke one of the funniest people I ever met. Spent almost two and a half years with him at Gib, not sure of his other postings.
RIP Martin
* * * * *
11 July 2022
From: Brian Jones
Mem No 1102 Alan Dawes
Sad news, I've just learned from his son Keith that Alan Dawes has passed away after a heart attack on Saturday. Alan joined the RAF in 1958 and trained as a fireman at Sutton-on-Hull. He was stationed at St Mawgan, El Adem, Akrotiri, Salalah and Stradishall before remustering to Disciplinary Duties, after which he served at Oakington and Marham. In retirement, Alan was a friend of the museum and a proud member of our association, submitting articles for Flashpoint in recent years. He also took on the duties of laying a wreath at Remembrance Parades and spoke to local Air Cadets about his RAF career.
RIP Alan
* * * * *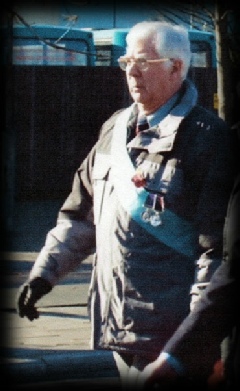 1 August 2022
From: Steven Skelly
Michael Skelly
It is with great sadness I have to inform you of the passing of my father SAC Michael "Mick" Skelly RAF Fireman. Dad was in RAF Fire Service from 1957, joining during national service, and then signing on to complete a total of 12 years. He finished at RAF Watton in 1969, having served in Sharjah, Ballykelly, and Coningsby amongst others. Dad passed away from a culmination of dementia and pneumonia in hospital at the end of July with his family by his bedside. The picture below is of Dad with me and my son at the RAF Fire Service Museum. The Mk 6 was Dad's absolute favourite vehicle, and I have fond memories of him telling me many tales about his days driving and operating it.
RIP Michael
2 August 2022
From: Ian Mutch
John Moreton
It is with great sadness I have to inform the membership of the passing of Ex CM John Moreton, RAF Cranwell, John died in the early hours of Friday morning. John had a long military career, serving both in the Army and then later as an RAF fireman where many will remember him from RAF Coningsby.
On leaving the RAF, He was stationed as a contract firefighter (Crew Manager) at RAF Cranwell covering both Barkston Heath and Scampton. John was both a good friend and colleague and will be sadly missed. Thoughts and condolences go to his wife, Maria, as well as family and many friends that knew John.
John's funeral will be on the 29th September 2022 at 13.30hrs at Boston crematorium. The service will be followed by a wake in Heckington
RIP John
* * * * *
* * * * *
28 September 2022
From: Steve Shirley
Terry Robinson
It is with great sadness I have to inform the membership of the passing of ex RAF Firefighter Terry Robinson. His family would like anyone who knew him, or indeed any Association Member, to attend the funeral if possible.
Terry served from 1957-1961 and did tours at Gan and Lyneham.
His funeral takes place on the 5th October at Rainsbrook Crematorium, Ashlawn Rd, Rugby. CV22 5QQ at 12.00
Further details can be obtained from his son Stephen on 07867856332
RIP Terry

* * * * *
30 September 2022
From: Neil Hall
Anselmo Alecio
It is with great sadness I have to inform the membership of the passing of ex MOD Firefighter Anselmo Alecio after a short illness with cancer. Anselmo started work at North Front, RAF Gibraltar as a Locally Employed Civilian fireman and continued for over 40 years earning promotion to Leading Firefighter in 1988. He will be sadly missed by his wife Carmen, his family and everyone who knew him. For those who worked with Anselmo, he will be fondly remembered as good friend to all and mentor to many. In retirement he worked for St John Ambulance and was always keen to welcome back old RAF Firefighters revising the Rock.
At his funeral a guard of honour was provided by St John Ambulance, Gibraltar City Fire Brigade and the MOD Fire Service.
RIP Anselmo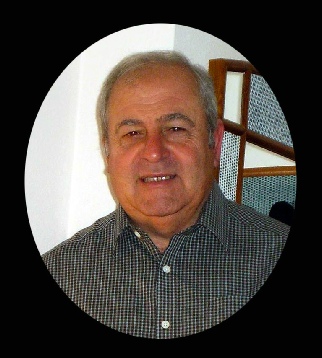 6 October 2022
From: Steve Shirley
Mem No 1156 Jack Ashurst
'I'm so sorry to have to tell you all that sadly Jack Ashurst passed away peacefully in his sleep this afternoon. Our deepest sympathy goes out to Diana who was always at Jacks side especially as she got him set up for our zoom meetings. They won't be quite the same again. Stand down Jack, you've got your final posting. God bless.
There will be a celebration of Jack's life on Wednesday 2nd November, 09.45 at:
Grimsby Crematorium
Weelsby Avenue
Grimsby
DN32 0BA
There will also be a webcast of the service, details of which will be published later.
RIP Jack

* * * * *
11 October 2022
From: Bob Feather
Mem No 268 Richard C Parker
I have the saddest duty of informing the Membership of the passing of my friend of 55 years, Richard C Parker. Richard, who was always known as DIck during his time in the RAF Fire Service, passed away peacefully in hospital on 9 October 2022. DIck and I arrived RAF Marham in 1967 where he stayed till 1972.
After leaving the RAF Dick took up entertaining in various venues, performing as a singer, comic, and a magician. A good few years ago DIck entertained the 200 plus members present at an Association reunion at Peterborough where he went down a storm, especially as he had been one of us.
RIP MY FRIEND.
Richard's funeral will take place at 1300 Hrs on 18 November 2022
Warren Hill Crematorium
Rothwell Road
Kettering
NN16 8XE
This will be a celebration of Dicks life with some live music and funnies.
For those unable to make it to the Crematorium the Funeral will on Web cast. At 1300 hrs:
Website: https://watch.obitus.com
Username. lira8445
Password. 724576
It can also be viewed afterward for 28 days.
RIP Dick
* * * * *
* * * * *
20 November 2022
From: Bob Ewing
Ray Carlton
Unfortunately another fellow RAF Firefighter brother has passed former Sgt Ray Carlton On the 15th November 2022. Prior to demob Ray served at Cottesmore and Wittering among other places.
RIP Ray
* * * * *
* * * * *
7 December 2022
From: Andy Price
Mem No 257 Allen Price
Very sad to have to inform the association that my father Al 'Hatman' Price passed away 0515hrs 06/12/2022 peacefully in his sleep.
Allen's funeral service will take place on Thursday 22nd at Grantham Crematorium, Harrowby Road, NG31 9DT.
RIP Al
16 December 2022
From: Denise Sandy
Mem No 676 Leslie Williams
I am sorry to have to inform the membership rather belatedly that my father, Leslie Williams, better known as Taff, passed away peacefully on 26th August at home with his family by his side. He was 83 and had battled bravely with Prostate Cancer, which was diagnosed in October 2018.
Les joined in April 1958 and trained at Sutton on Hull before going on to serve at Aldergrove for 3 years and leaving the RAF in April 1961. He always looked forward to the association gatherings where many members will remember him from, but sadly was unable to attend in recent years due to his failing health.
RIP Les