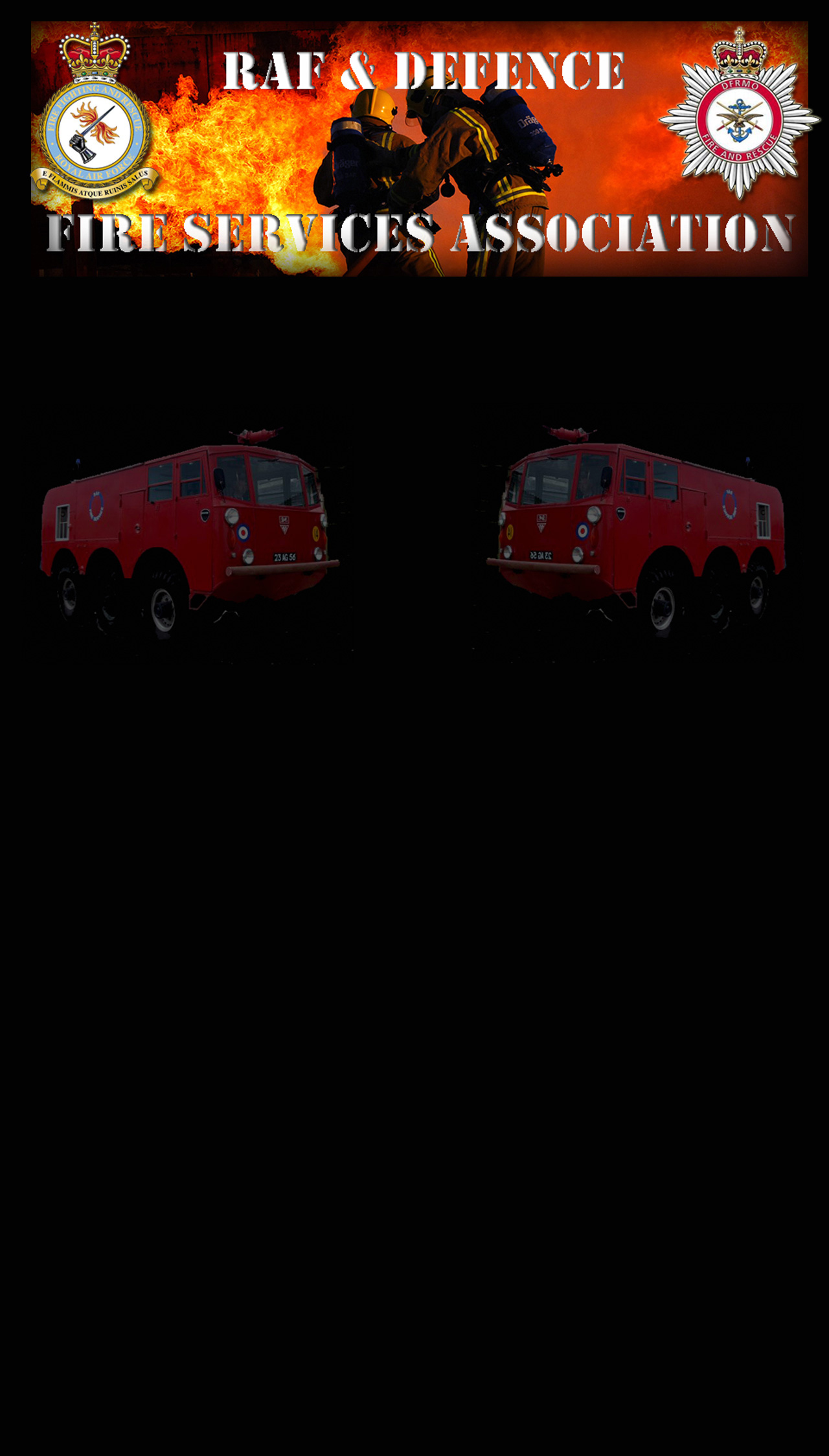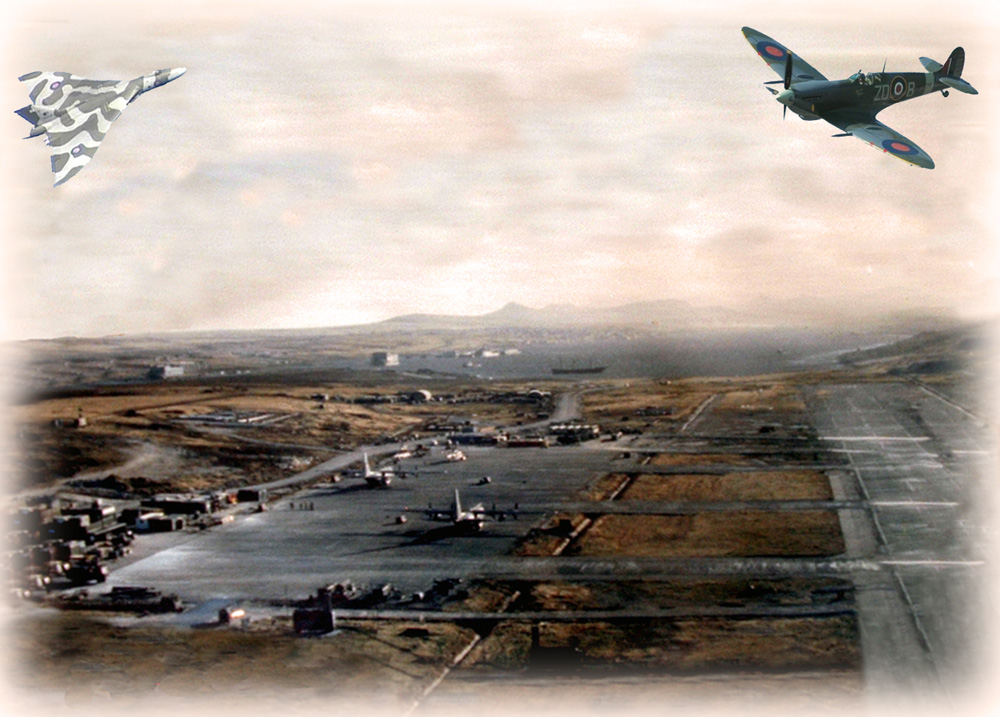 Although the provision of fire-fighting personnel on military establishments goes back many centuries, there appears to be very little known about the early days. Below I have listed some notable dates and events that have led to the services we know today. If anyone has information that will enhance this page, please email me at webmaster@rafanddfsa.co.uk.

Thank you
Dave
webmaster


This background photograph taken from the back of a C130 was provided by Ray Fearnley and despite not being of great quality, it is one of my favourite images on the site. Showing the crowded little airfied with its short runway, Stanley Harbour with the Coastels, the town, and the famous mountains behind; it captures the unique atmosphere of the remote operating base in the years between the recapture of the Islands and the completion of RAF Mount Pleasant.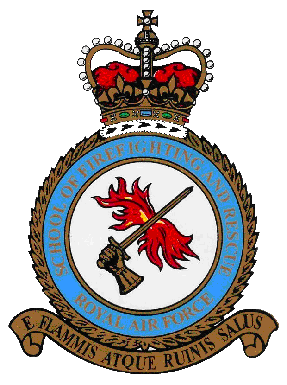 In 1953, a Unit Crest was approved by Queen Elizabeth 2, and presented to the School on Wednesday 22nd December that same year. The Crest depicted a gauntlet holding a flaming sword and Latin Motto – 'E FLAMMIS ATQUE RUINIS SALUS' (Salvation from Flame and Ruin' with slight variations applied over the years).
In the post war years, some 5,000 Regulars and National Service Conscripts were trained as Firemen at the RAF School of Firefighting & Rescue based at RAF Sutton on Hull.
1959
On 7 October 1959 Sutton-on-Hull was closed and Fire-fighter training was moved to the Fire & Rescue Training School (FRTS) located within the RAF Regiment Depot at RAF Catterick. The trade was then classified as RAF Regiment Fireman, Trade Group 22.
At around the same the Air Force Department Fire Service (AFDFS) came into existence with a training school at RAF Manston. Many fire sections, most notably at Training Command Stations were civilianised and AFDFS officers began to take over the direction of Fire Services within the RAF from offices within the higher formations of the service.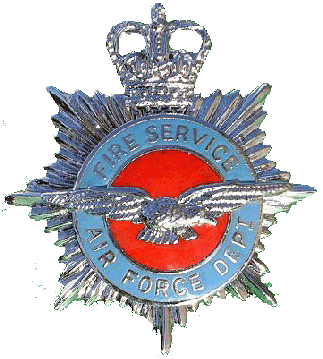 1961
The Army Fire Service was civilianised under the RAOC.
1963
The last National Serviceman demobbed from the armed forces.
1975
Mk 9 and TACR trucks were introduced carrying the new generation of chemical foams. The improved performance led to new airfield categories and smaller crash crews on RAF operating bases.
1976
RAF Firemen were moved to Trade Group 8 and were no longer "RAF Regiment" Firemen. Ceremonial burning of "mudguards" was carried out at locations throughout RAF.
1977
Operation BURBERRY:- RAF Firemen were deployed nationwide in response to National Fireman's strike. As well as providing essential training for Green Goddess crews from all three services, BA Teams were sited in all major towns and cities.
1987
Donnington Storage Depot suffered its second massive fire in the space of two years, each costing in excess of £165 million, UK's most expensive peace-time fires since the Great Fire of London in 1666.
1990
The AFDFS, Admiralty Fire Service, and Army Fire Services were amalgamated to form Defence Fire Service (DFS)
1994
A program of Market Testing was initiated which resulted in the contractorizarion of several Fire Stations.
1996
RIV & MFV Fire tenders were introduced onto military airfields. New airfield categories were established resulting in yet more reductions in crew size.
1997
A radical proposal called Airfield Support Services (ASSP) put forward to include all airfield services on military airfields under one big long term contract. Bids invited from interested parties. DFS Chief Fire Officer Graham Leighton commences in-house bid (Fire Study 2000) aimed at making Services and agency outside of the remit of ASSP and enabling the services to escape contractorizarion.
2004
Following much ground work and negotiation ASSP was formally abandoned in October 2004.
2005
In April 2005 it was formally agreed that the new model Fire Service would be created within LAND (an Army Formation) and having been reviewed was now known as Fire Study 2005.
2006
On 4 September 2006 the changes took effect and the Defence Fire Risk Management Organization (DFRMO) was created at Abingdon to direct all MOD Fire Services world wide including RAF Trade Group 8 Fire Fighters and Royal Navy Aircraft Handlers. The chain of command is then divided geographically into Areas and Groups as follows:
Overseas Area. HQ at Abingdon with Groups at:
· Cyprus
· Gibraltar
· Germany
+ control over South Atlantic and Balkans
North Area. (Scotland, Northern Ireland and Northern England). HQ at Edinburgh with Groups at:
· Stirling
· Lisburn
· York
· Preston
East Area. (Eastern England, South East England, South England and London). HQ at Aldershot with Groups at:
· Chilwell
· London
· Aldershot
West Area. (Wales, West Midlands and South West England). HQ at Shrewsbury with groups at
· Brecon
· Shrewsbury
· Bulford
1864
Army Fire Service formed at Aldershot from the Pioneer Corps.
1912
May 1912 saw the formation of the Royal Flying Corps and even in those early days it was necessary to provide some protection for the aircrews. At that time the only military fire service was the Army Fire Service, manned by Army Service Engineers and they were to provide fire cover for the RFC. The use of the Army personnel ceased in 1916 and the RFC took the fire fighting operations into their own hands. The necessary personnel were taken from many different trades, with fire fighting as their secondary task.
To combat the threat of fire, the landing stations of all the RFC's Home Defence units were equipped with 30/40 gallon chemical foam fire extinguishers. These were manhandled to the incidents when required. Vehicles were established at the Store Depots of the RFC, unfortunately these were only fitted with hand held fire extinguishers. So some advances were made albeit slight, with RFC taking some measures to offset the risks to life from fire. Incidentally they still used the Army Fire Service Manual as the reference for firefighting.
1918
The RAF was officially formed on the 1st April 1918 and during its formative years the loss of aircraft and equipment due to fires caused a great deal of concern which eventually led to the provision of a fire vehicle at every permanent RAF Station. The training of personnel to operate them started in 1922 at RAF Cranwell where a small unit was established to train a trade known as Aircraft Handler / Fire fighter. The London Fire Brigade, who provided the instructors and devised the training methods and schedules, controlled the Unit.
The year 1918 was to prove very costly for the RAF with the loss of many aircraft in storage. At this time an airframe and an engine was priced at around £1000. Bearing that in mind, the monetary loss from fires at Shotwick and Ternhill totalling £57,000 can be considered expensive. Other units also suffered equipment loss due to fire; Wyton £23,239, Upavon £9,109 and Drayton Manor £16,128. In light of these losses the Air Ministry felt compelled to order a number of fire-fighting vehicles with pumping facilities and with these measures against fire, it was hoped that the financial loss would start to decline.
1919
On 21 May 1919 a fire at Ligescourt resulted in the loss of a Handley Page aircraft in (0/400 D8314), and the hangar in which it was accommodated. This fire again prompted the Air Ministry to take further action as the results of the Court of Inquiry emerged. Several deficiencies had come to light, including the fact that personnel were poorly trained in fire-fighting, and lacked effective fire-fighting equipment with which to do the job. It was therefore decreed that every permanent station had to be equipped with a fire vehicle complete with its own housing, so vehicles were adapted for that role.
1921
In 1921 the RAF MT Repair Depot at Shrewsbury began a modification programme which resulted in Crossley 6 X 6 tenders being fitted with crash/rescue equipment including a 30 gallon chemical foam extinguisher and hand-held "Fire Snow" extinguishers. The programme was completed in 1922.
1930
In 1930 the RAF ordered more Crossley and Morris B1 chassis for conversion to fire tenders. During this decade Crossley IGL 6 X 4 vehicles also went into service with the RAF along with many other vehicles including the Fordson Foam and CO2 tender.
"Regulars" had manned the RAF Fire Vehicles until 1939, this being a term for those who had volunteered to serve in the Armed Forces of their own choice. The threat of war in 1939 resulted in June of the Royal Assent of the Military Service (Conscription) Bill, which compelled every male of 20 years of age in the United Kingdom to register and serve in the Armed Services. With the uncertainty of which Service they would be sent to, many of that age volunteered to serve for "the duration of the war" in the RAF and some of them, together with those conscripted, were to be Fire-fighters.
1940
In July 1940, after 18 years at Cranwell, the Fire Training Unit moved to RAF Weeton in Lancashire for 3 years, where RAF Personnel provided tuition at the Unit under the tuition of WO Pascoe.
1943
On the move to RAF Sutton-on-Hull in 1943, the Fire Training Unit became the RAF School of Fire Fighting commanded by Sqn Leader Brooker MBE. It was there that the Fire Service was to see immense changes in its structure and organisation some of that was necessary with the vast advancement of military aviation.
On 31st December 1943 it is thought that the RAF Fire Service came into being with the promulgation by Air Ministry Order of the Trade of Firefighter (later changed to Fireman), Trade Group 9. To command this new Trade, Fire and Anti-Gas Officers were appointed and the school was renamed for the remaining of the war to the RAF School of Firefighting and Anti-Gas.
At the same time the No. 2 RAF School of Firefighting was formed at RAF Ismalia in Egypt, this closed at the end of WW2. Little is known about the training that RAF Firemen underwent during WW2, but it was of considerable importance. Throughout those wartime years - they continued to provide a service to save life and fight fire involving numerous crashed aircraft.
After the war conscription, then known as National Service, was maintained until 1967, and young men of 18 years had to serve for 2 years. (For a short time there was a reduction to 18 Months.)
The uncertainty of their "doom" continued and many pre-empted the feared day by volunteering for service in the RAF at the age of 17½. Some 22.600 were attested into the "Cream" between February 1946 and March 1947 which also included ex-services men who had already served their Country in other arms, and fancied a spell in RAF Blue.